---
Armsby Abbey is an internationally recognized, award winning gastropub, specializing in seasonal farmhouse fare, craft beer, and handcrafted cocktails. Our complete ethical commitment to food sourcing coupled with unparalleled access to world class beer selections helps Armsby Abbey stand above the rest.
---
MAKE A RESERVATION
---
Mar
19
Tue
Best of Worcester Magazine Voting is Open!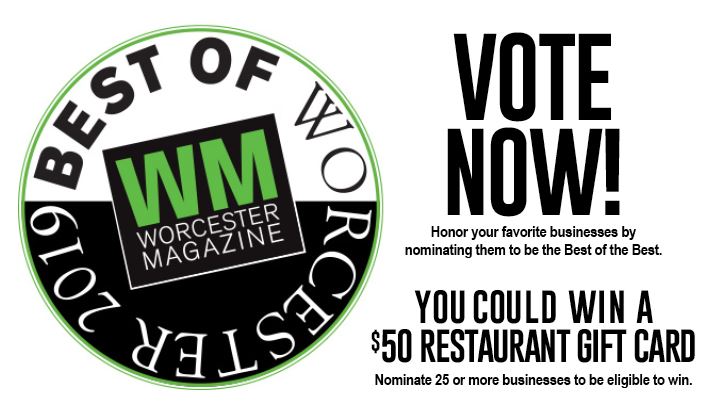 It's that time again! Best of Worcester Magazine 2019 voting is now open thru March 28th! Armsby Abbey has won an unprecedented amount of awards since opening its doors in 2008 and this year we have been nominated yet again in 11 categories!   If you have a moment, it would mean the world to us if you could vote for Armsby Abbey in your favorite categories.
Best Farm-to-Table Restaurant
Best Restaurant
Best Sunday Brunch
Best Craft Beer Selection
Best Cocktails
Best Lunch Spot
Best Chef: Sean Dacey
Best Server: Brandon Basque
Best Burger
Best Wings
Best Place to Forfeit Your Diet (Mac & Cheese!)
Don't forget to vote for all your other favorite local haunts, especially our sister establishment, The Dive Bar nominated for Best Outdoor Patio, Best Neighborhood Bar, Best College Bar & Best Bartender: Ricky Nelson!
Many thanks in advance!
Mar
22
Fri
Kent Falls 4th Anniversary 3/22

@ Armsby Abbey
Mar 22 @ 5:00 pm – 11:00 pm
Join us on Friday, March 22nd, beginning at 5pm, as we celebrate the 4th Anniversary of Kent Falls Brewing! Head brewer & owner, Barry Labendz, will be here to join us as we tap 4 lines of Kent Falls beers as well as pour their 3 year spontaneously fermented farmhouse blend from the bottle (this will be served from the Gueuze basket table side).
Apr
6
Sat
10th Annual Stoutfest Breakfast 4/6

@ Armsby Abbey
Apr 6 @ 9:00 am – 12:00 pm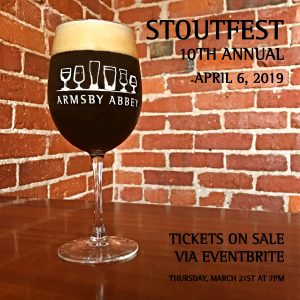 3 Rare Stouts / 3 Epic Courses / 1 World Class Brewer
We like the element of surprise so beyond this you'll just have to trust us and make your own assumptions.
If you have been fortunate enough to attend any of the NINE previous Stoutfest breakfasts, then you already know this will be nothing short of amazing! Your wake-up call will be provided by Iggy's in Cambridge and Armeno Coffee Roaster's out of Northboro, while Chef Sean Dacey puts the final touches on your meal. The three stouts offered during this breakfast, will ONLY be offered to guests at this breakfast.
As if imbibing 3 amazing stouts wasn't enough, once the breakfast concludes, each guest is not only guaranteed a seat for the Stoutfest tapout when doors open to the public at noon, but will also have access to our 2019 Stoutfest tees and the first pour of all 22 hand-picked stouts!
Tickets go on sale Thursday, March 21, 2019, via Eventbrite only at 7PM.
---
SEE ALL EVENTS
Winner of 66 Best of Worcester Awards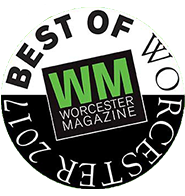 Best New Restaurant (2009)
Best Restaurant (2013 & 2015)
Best Farm-to-Table Restaurant (2017 & 2018)
Best Sunday Brunch, Cocktails, & Beer Selection - 10 years in a row 2009-2018!
Best Chef - 6 years in a row!
Best Bartender, Joy Flanagan - 5-time Winner!
---
SEE MORE
Since Armsby Abbey opened on August 1, 2008, it has become recognized as one of the top craft beer destinations in the world, receiving accolades from top publications such as Beer Advocate, Wine Enthusiast, and DRAFT Magazine. With a rotating selection of 22 world-class draughts and extensive cellared bottle selection that follows suit, coveted breweries such as Hill Farmstead, Trillium, Cantillon, De Ranke, De Struise and De la Senne, to name but a few, are proud to have their breweries represented at Armsby Abbey.
---
SEE WHAT'S ON TAP
---
The bar program at Armsby Abbey offers guests a seasonally-inspired cocktail menu that utilizes only the freshest ingredients available. In the summer the cocktail menu changes often, focusing on the abundant flavors local farms and orchards have to offer, from that first red strawberry in May to that last pumpkin in November we celebrate our local producer's bounty!
---
Subscribe to E-mails
Keep up with everything going on at Armsby Abbey!
[tco_subscribe form="344"]