---
Armsby Abbey is an internationally recognized, award winning gastropub, specializing in seasonal farmhouse fare, craft beer, and handcrafted cocktails. Our complete ethical commitment to food sourcing coupled with unparalleled access to world class beer selections helps Armsby Abbey stand above the rest.
---
Winner of 76 Best of Worcester Awards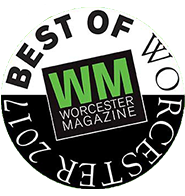 Best New Restaurant (2009)
Best Restaurant (2013 & 2015)
Best Farm-to-Table Restaurant (2017, 2018, & 2019)
Best Sunday Brunch, Cocktails, & Beer Selection - 11 years in a row 2009-2019!
Best Chef - 6 years in a row!
Best Bartender, Joy Flanagan - 5-time Winner!
---
SEE MORE
Since Armsby Abbey opened on August 1, 2008, it has become recognized as one of the top craft beer destinations in the world, receiving accolades from top publications such as Beer Advocate, Wine Enthusiast, and DRAFT Magazine. With a rotating selection of 22 world-class draughts and extensive cellared bottle selection that follows suit, coveted breweries such as Hill Farmstead, Trillium, Cantillon, De Ranke, De Struise and De la Senne, to name but a few, are proud to have their breweries represented at Armsby Abbey.
---
SEE WHAT'S ON TAP
---
The bar program at Armsby Abbey offers guests a seasonally-inspired cocktail menu that utilizes only the freshest ingredients available. In the summer the cocktail menu changes often, focusing on the abundant flavors local farms and orchards have to offer, from that first red strawberry in May to that last pumpkin in November we celebrate our local producer's bounty!
---
Subscribe to E-mails
Keep up with everything going on at Armsby Abbey!
[tco_subscribe form="344"]